Award-winning producer Barry Green, joined by co-host David Jimerson, take you through what you need to know to start seeing great lighting in your own projects! Through detailed instruction, tongue-in-cheek sketch illustrations, and hands-on examples, we'll show you the fundamentals of cinematic lighting and how you can use light as a paintbrush to tell your stories like the pros, with just the right look, exposure – and feeling! With over four hours of detailed instruction, you'll learn about:

• Avoiding the most COMMON MISTAKES
• Understanding SHADOWS and hard and soft light
• Understanding EXPOSURE and how to get it right
• Lighting TECHNIQUE
• Setting a MOOD and meeting ARTISTIC GOALS
• Professional LIGHTING FIXTURES and GEAR
• Pro tips from professional cinematographer Levie Isaacks, A.S.C.
• And much, much more!
And join us as we explore two short films made specifically for this program! Watch Jack Daniel Stanley's award-winning A Little Mouth to Feed (official selection for opening night of the 2009 Slamdance Film Festival) and Unawakening.
Then go behind the scenes! Get on-set insights from Jack as he explains his artistic vision behind the films, and then sit down with Barry and Internet cinematography legend Macgregor® for an hour-long, in-depth interview featurette thoroughly exploring what went into lighting the films! From bringing the director's vision to life, to the details of the specific lighting setups, to the ideas and insights of a working professional cinematographer as he uses the craft of lighting to bring the art of film to life!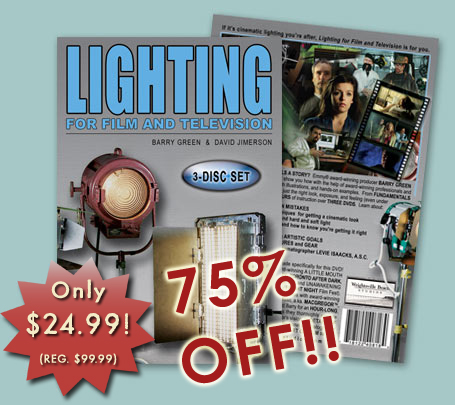 WATCH ON UDEMY.COM NOW!

Originally released on DVD, get the full program in topic-indexed, DVD-quality streaming video at Udemy.com! No shipping, no waiting, watch today!

ALSO AVAILABLE: